In November of 2021, President Biden signed the long-awaited bipartisan infrastructure bill into law, which includes $5 billion for EV chargers and other EV infrastructure. Part of the new infrastructure bill is the National Electric Vehicle Infrastructure (NEVI) Formula Program, which means further investment and growth in the EV industry. 
What is the National Electric Vehicle Infrastructure (NEVI) Formula Program?
The new National Electric Vehicle Infrastructure (NEVI) Formula Program will help America build out a national EV charging network. This is an important step in making EV chargers and electric vehicles accessible to all Americans. 
The firm Statista estimates that the global electric vehicle market will reach about $1.4 trillion US dollars by 2027. Electric vehicle adoption throughout the world and especially in the United States is growing exponentially. 
What does all of this investment mean for EV chargers? 
The goal with all of this investment in EV infrastructure is to help make electric vehicles more accessible throughout all of America. This will help increase EV charger availability to allow for more long-distance travel in electric vehicles.
The program is focusing on targeting rural areas via its Rural EV Toolkit to make sure that everyone can rely upon EV chargers being available regardless of whether they live in the city, suburbs or rural areas. EV charging infrastructure will be strategically deployed throughout the country as part of the program.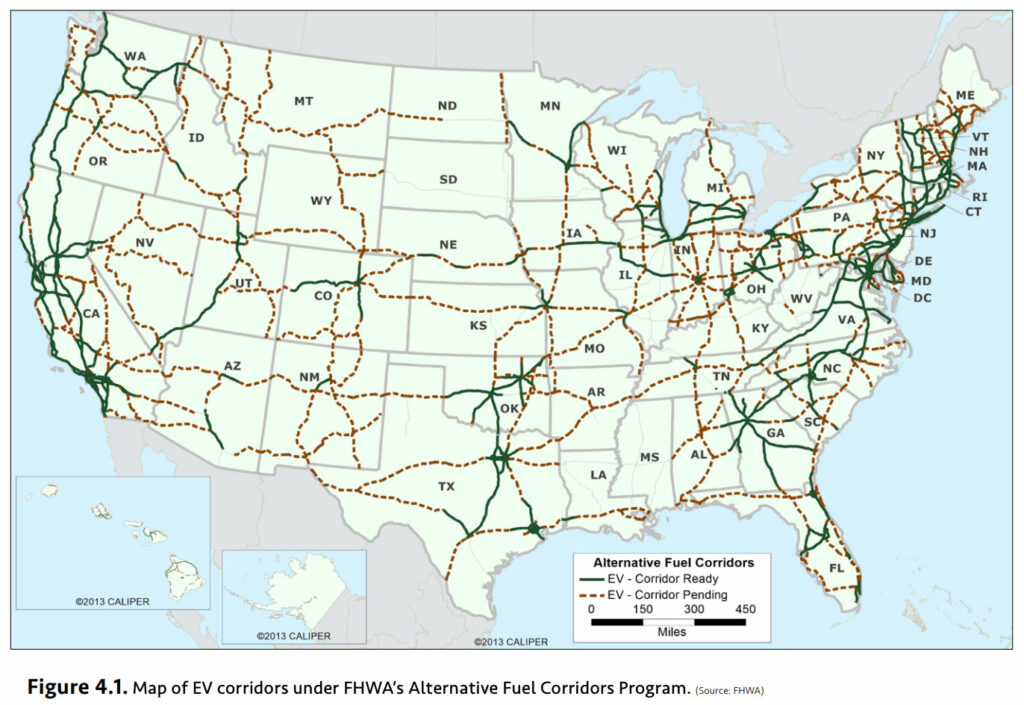 Alternative Fuel Corridors Program map from The Rural EV Toolkit PDF
Preparing for the EV industry of tomorrow by a better distribution of EV chargers
The infrastructure bill and the federal support of electric vehicles means that the EV industry will expand rapidly in the coming years. More EV tax credits are on the way for both infrastructure and consumers, which will further encourage the purchase of EVs. The White House Fact Sheet on the EV Charging Plan gets into greater detail on the goals for reducing emissions by building out America's EV infrastructure. 
How Heartland Charging Services can help you prepare for tomorrow
Our team of EV charging experts is ready to help you prepare for the electrification of America. We offer complimentary on-site consultations for clients throughout the Midwest so we can understand your business and your location to create the optimal plan for you and your team. We create the plans for your EV infrastructure, provide everything you need in the installation and then offer ongoing maintenance for your EV system. 
Contact our team today to discuss how Heartland Charging Services can keep your business charging forward.